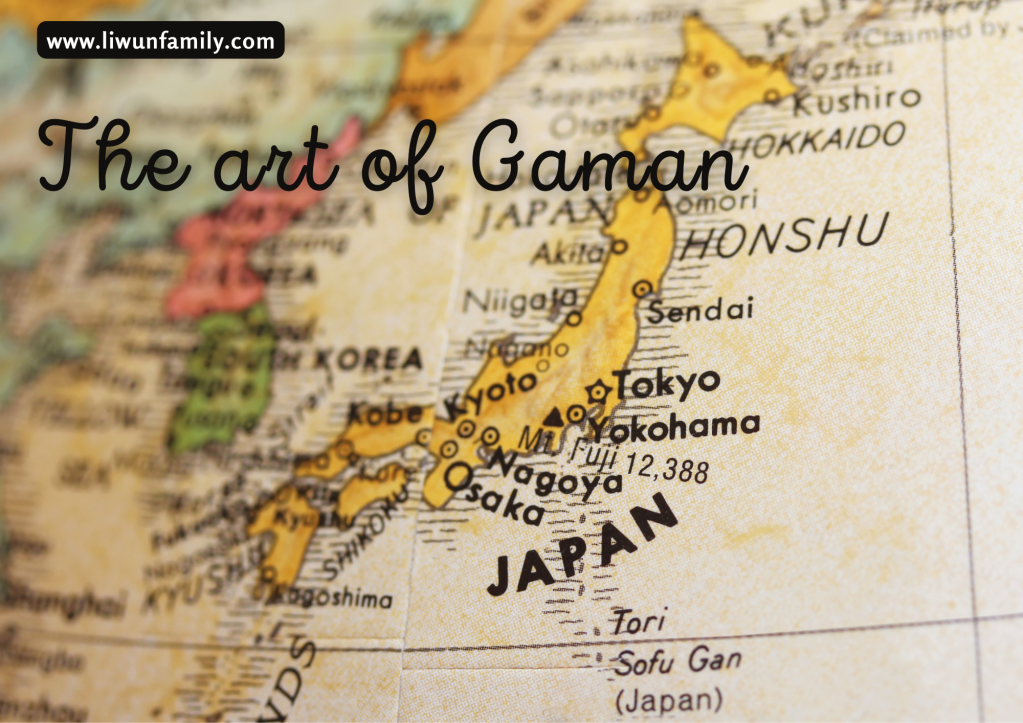 Bertemu orang berbagai bangsa dengan latar belakang budaya dan cara pandang sebetulnya membuat saya kaya cerita meski saat saya di negeri tersebut, saya hanya turis. Sedangkan saat saya berdiskusi dengan warga dari negara yang dimaksud, kami adalah orang asing di Jerman.
Sebagai seorang akademisi tentu saya senang sekali mengeksplorasi rasa ingin tahu tentang berbagai filosofi yang ada di berbagai belahan dunia seperti Gaman yang berasal dari negeri matahari terbit.
Suatu kali saya bercerita bahwa saya punya blog personal yang mengajari saya tekun menulis setiap hari. Daily blogging ini sangat membantu saya menurunkan kecemasan dan stres dalam hidup. Saya putuskan tekun menulis di blog juga setelah pindah ke Jerman untuk mengatasi Culture Shock saat itu sehingga saya bisa mencari tahu lebih banyak tentang ini dan itu.
Kebiasaan saya menulis melatih kesabaran saya juga. Saya pun menjadi terbiasa untuk berpikir detil dan tersturktur terutama saat berkomunikasi. Lesson Learned dari blogging itu adalah saya bisa mengisi kekosongan jiwa saya.
Mungkin bisa dikatakan menulis adalah bentuk resiliensi saya beradaptasi dengan situasi yang baru atau masalah hidup. Hidup saya menjadi bermakna karena ribuan cerita yang ditulis yang kadang membuat saya takjub, it's me loh.
Ketika saya menyampaikan hal tersebut kepada rekan saya yang berkewarganegaraan Jepang, dia sangat antusias dengan cerita saya. Dia kemudian bercerita tentang The Art of Gaman. Bagaimana pun tidak ada yang sia-sia dalam hidup ini. Poinnya adalah ketika kita benar-benar tekun mengerjakannya, kita akan mendapatkan hasil yang menakjubkan.
Dia memberi contoh bagaimana Gaman yang berarti ketekunan itu tampak dari karya seni yang dibuat oleh orang Jepang. Selesai Perang Dunia Kedua, ada banyak barang-barang yang hancur, tak terpakai dan tak berguna lagi. Orang-orang yang berada di Kamp masa itu diberi pekerjaan tangan sebagai bentuk resiliensi mereka. Mereka mungkin putus asa, depresi, merana dan mungkin tak berdaya.
Mereka diminta menyulam serbet, memberi ukiran pada barang yang sudah tidak lengkap lagi dan dianggap tak berguna atau mempercantik lokasi mereka. Hasilnya itu luar biasa. Bukan hanya menghasilkan karya seni yang bernilai tetapi apa yang mereka kerjakan dengan tekun membuktikan kalau seni itu bukan hanya untuk penikmatnya saja tetapi pembuatnya juga.
Ketekunan itu membangkitkan jiwa sehingga sejauhmana kita bertahan. Ini dalam filosofi Jepang dikenal dengan Gaman. Hirasuna yakni istilah dalam Bahasa Jepang yang berarti ketekunan untuk mengatasinya secara martabat. Daripada berkeluh kesah tidak ada artinya, so please do something!
Filosofi Gaman ini konon mendasari bagaimana orang-orang Jepang bangkit ketika ada bencana alam seperti gempa atau banjir. Mereka punya kemampuan resiliensi dalam diam dan mengerjakannya. Kenyataan hidup itu memang tidak bisa diubah, tetapi nasib itu ditentukan oleh kita sendiri sehingga kita menjadi lebih bermakna.
Kalau saya menulis misalnya, ada yang terampil menyulap barang bekas menjadi kerajinan tangan atau para tahanan di penjara diberikan kerajinan tangan misalnya. Semua itu bertujuan untuk mengisi kekosongan agar menjadi bermakna.
Sejatinya hidup itu tanpa makna. Kita yang hidup ini memberikan maknaya seberapa kecil pun peran atau pekerjaan yang kita tekuni, itu tetap bermakna. Ketekunan itu melatih kesabaran.
Kesabaran melatih kebiasaan. Jadi membiasakan diri untuk memberi makna pada setiap hal, bahkan benda yang tak terpakai lagi pun bisa bernilai ketika kita bisa mengisinya.
Bagaimana menurut Anda?